Welcome to The NY Chapter of AFS!
The mission of the New York Chapter of the American Fisheries Society is to improve the conservation and sustainability of fishery resources and aquatic ecosystems by advancing fisheries and aquatic science and by promoting the development of fisheries professionals. 
---
 Upcoming event – September 26, 2017 – Right around the corner
Theodore Roosevelt Inaugural National Historic Site in Buffalo is hosting the following event on September 26th:  https://www.facebook.com/events/785722041615128/
---
for the 2017 New York Chapter Of the American Fisheries Society
---
Rest In Peace Paul Neth
---
From Our President:
I am extremely excited to be writing my first President message to the NYS AFS community. It has been long overdue.
Last year's annual meeting, honestly all of the meetings over the last four or more years have been amazing. The past presidents, the ExCom members, and the program and arrangement chairs have done their jobs admirably. It takes many people and a lot of their time to pull these great events off. We have been lucky to enjoy the fruits of their labor. Thank you. Each of our annual meetings continue to break attendance records and raffle contributions. This has made us the envy of Chapters throughout the Northeast Division. Each of you should be proud to be a part of this amazing and motivated chapter.
We are in negotiations with the Hyatt Hotel in Buffalo for the next Chapter meeting. Tentatively the next Chapter meeting will be held there February 1-3, 2017. This year's Local Arrangements Chair is Tim DePriest. This year's Program Chair is still being decided. We are working to build a plenary around the theme of Sturgeon Resturgence. The idea of the theme will be to discuss contemporary success stories and ongoing efforts to restore sturgeon throughout the region. Talks will share different levels of restoration being observed and what they may look like in the future.
Mark Cornwell is our new President-Elect and as such, in charge of the raffle for the 2017 meeting. If you have any ideas for raffle prize donations, please pass them on to Mark. As was the case for this year's raffle, it is only through the help of Chapter members that we can build up an impressive set of prizes. I know that I could not have brought together such a great set of raffle prizes without the help of the many generous people that brought me ideas and items, even went out and picked things up for me. Thank you all and let's keep it up and make this year and even bigger success. Keep this thing rolling New York!
Keep your lines in the water and enjoy your field and fishing seasons
Dimitry Gorsky
---
Retired NYSDEC biologist Walt Keller receives Conservationist of the Year award at 2016 NYCAFS meeting
Dear NYS AFS Members:
I am writing to thank you again for honoring me with at the annual banquet with the Conservationist of the Year Award which means so much to me. And again, I am humbled by your recognition.
My absence from the last day of the Chapter meeting was not intended. On that Friday morning drive from Stamford to the Otesaga I had some discomfort and started to berate myself for not having my nitro aboard. When I got to Cooperstown I had to decide whether to turn right at Price Chopper for the hospital or continue on to the Otesaga. An act of self-conservation, I turned right. Clue to all for fast admittance to and immediate undivided Emergency Room attention, the two magic words, "chest pain". Fortunately for me a false alarm and they sent me home, absent any pain but still clueless, the next afternoon.
But detour aside and again, thank you so much for even considering to award me for something that I was not even aware might be obvious, my baby steps for conservation.
Humbly,
Walt Keller
---
Missed the Meeting?
2016 Annual Meeting Videos are available click here!
---
The Fishes of Pennsylvania is now available! Books can be purchased from the publisher's website ( http://cichlidpress.com/ ) and from Amazon Books (search title/authors).
After nearly twe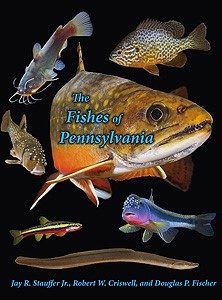 nty years in the making, Jay R. Stauffer Jr. (Pennsylvania State University), Robert W. Criswell (Pennsylvania Biological Survey), and Douglas P. Fischer (Pennsylvania Fish & Boat Commission) have attempted to present comprehensive and current information with a mixed audience of researchers, fisheries professionals, and sportsmen and -women in mind. Each freshwater and migratory species regularly occurring in Pennsylvania received a full species account, in addition to family and genera accounts. The species accounts contain descriptions of identifying characteristics (including dichotomous keys), color photographs of each species, colored distribution maps organized into three time periods, biological and ecological information, a conservation status summary, and additional remarks, where appropriate. The book's chapters provide a description of the history of ichthyology in Pennsylvania, the waterways of the commonwealth, the origin of the fish fauna, introduced fishes, conservation efforts, the study of fishes, basic anatomy, characters and methodology for identification, collection techniques, photography, videography, and sport fishing opportunities (the latter guest-authored by John Arway, PFBC Executive Director). Rob Criswell's vibrant color photography has been used liberally throughout the book. The formatting and layout are well thought out and easy on the eyes. Illustrations by Nevin Welte (PFBC and Western Pennsylvania Conservancy) also adorn many pages where pictures were unavailable or unable to capture characters which an artist can clearly present.
The book is a large edition (8″ x 11″) hard cover composing of 556 pages, 575 glossy color photographs, and 196 distribution maps.
---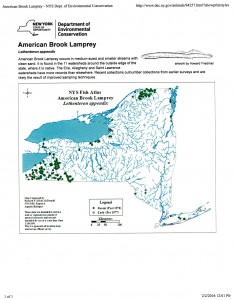 Reference as:  Carlson, D. and R. Daniels. 2013. Fish Atlas maps of New York, webpage. 184 pp http://www.dec.ny.gov/animals/84622.html
---
The Official New York Fishing, Hunting & Wildlife Guide App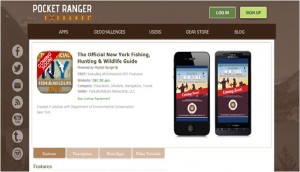 Pocket Ranger® provides plenty of other standard features and advanced GPS technology to maximize any backcountry excursion.
 With essential fishing, hunting and wildlife viewing information at your fingertips, prepare to experience New York's great outdoors like never before.
---
Jonathan Bird's Blue World: Saving the Sturgeon