Welcome to The NY Chapter of AFS!
The mission of the New York Chapter of the American Fisheries Society is to improve the conservation and sustainability of fishery resources and aquatic ecosystems by advancing fisheries and aquatic science and by promoting the development of fisheries professionals. 
---
for the 2017 New York Chapter Of the American Fisheries Society
---
From Our President:
Dear New York Chapter Members and Friends,
Happy New Year!!  As we pass the holidays and welcome the cold start to the 2018 the NY Chapter is busy planning the Annual Meeting at the Otsega in Cooperstown from February 7-9th, 2018.  This meeting should be another great one, with a theme of Forage in the Food Web.   Bring your warm clothes and ice fishing gear, as Otsego already has enough fishable ice to support my cold weather addiction.  As your President, I am regularly humbled by the excellent people that we have in our midst that have dedicated themselves to our Society and our natural resources.   As we gear up for our annual meeting, I can tell you that the New York Chapter is full of people passionately dedicated to service, stalwart advocacy and tireless dedication to education and our future.   I salute their stewardship to keep the NYC strong and in excellent working order.  Come and join us once again as we celebrate our fisheries, our profession and each other.  I hope to see you in Cooperstown!
My best, Mark
---
The Fishes of Pennsylvania is now available! Books can be purchased from the publisher's website ( http://cichlidpress.com/ ) and from Amazon Books (search title/authors).
After nearly twe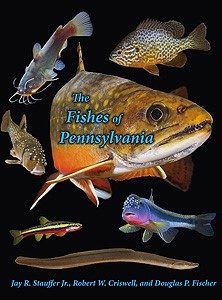 nty years in the making, Jay R. Stauffer Jr. (Pennsylvania State University), Robert W. Criswell (Pennsylvania Biological Survey), and Douglas P. Fischer (Pennsylvania Fish & Boat Commission) have attempted to present comprehensive and current information with a mixed audience of researchers, fisheries professionals, and sportsmen and -women in mind. Each freshwater and migratory species regularly occurring in Pennsylvania received a full species account, in addition to family and genera accounts. The species accounts contain descriptions of identifying characteristics (including dichotomous keys), color photographs of each species, colored distribution maps organized into three time periods, biological and ecological information, a conservation status summary, and additional remarks, where appropriate. The book's chapters provide a description of the history of ichthyology in Pennsylvania, the waterways of the commonwealth, the origin of the fish fauna, introduced fishes, conservation efforts, the study of fishes, basic anatomy, characters and methodology for identification, collection techniques, photography, videography, and sport fishing opportunities (the latter guest-authored by John Arway, PFBC Executive Director). Rob Criswell's vibrant color photography has been used liberally throughout the book. The formatting and layout are well thought out and easy on the eyes. Illustrations by Nevin Welte (PFBC and Western Pennsylvania Conservancy) also adorn many pages where pictures were unavailable or unable to capture characters which an artist can clearly present.
The book is a large edition (8″ x 11″) hard cover composing of 556 pages, 575 glossy color photographs, and 196 distribution maps.
---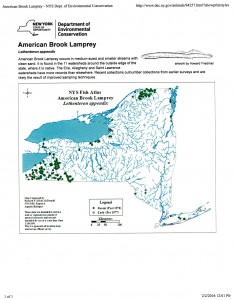 Reference as:  Carlson, D. and R. Daniels. 2013. Fish Atlas maps of New York, webpage. 184 pp http://www.dec.ny.gov/animals/84622.html
---
The Official New York Fishing, Hunting & Wildlife Guide App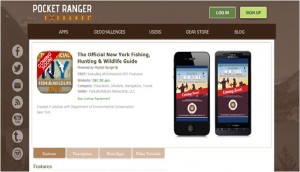 Pocket Ranger® provides plenty of other standard features and advanced GPS technology to maximize any backcountry excursion.
 With essential fishing, hunting and wildlife viewing information at your fingertips, prepare to experience New York's great outdoors like never before.
---
Jonathan Bird's Blue World: Saving the Sturgeon