2019 Annual Meeting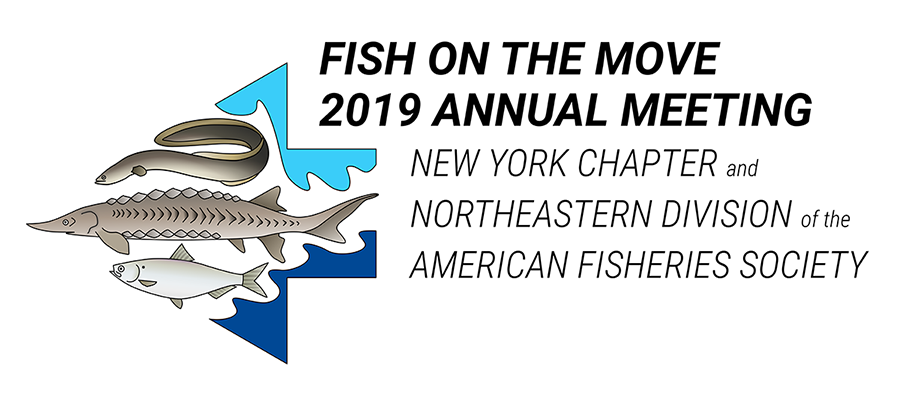 The NY Chapter and Northeast Division of the American Fisheries Society held their Annual meeting on February 6-8th, 2019 at the Poughkeepsie Grand Hotel in Poughkeepskie, NY.
Our plenary theme, Fish on the Move, explored new understandings of "traditional" movement ecology (e.g., diadromy), climate change-induced shifts in species ranges, as well as movements of invasive species.  Additionally, this session considered consequences of these movements on human communities.
The invited speakers were:
David Secor, University of Maryland, author of Ecology of Marine Fish Migrations;
Janet Nye, Stony Brook University, expert on climate induced range shifts in North Atlantic fishes;
Kathy Mills, Gulf of Maine Research Institute, expert on how coastal communities adapt to climate-induced changes in fisheries;
James Gilmore, Director, Division of Marine Resources, NYSDEC and Chair of the Atlantic States Marine Fisheries Commission;
Chris Bowser, Hudson River National Estuarine Research Reserve, the genius behind the citizen science-based Hudson River glass eel monitoring program.
They will be joined by John Waldman, CUNY Queens College, who will moderate a panel discussion.
---
We have the Program (2/1/19) and Abstracts(2/1/19) available online.
---
The Presentations are Online too!  Check out the NY AFS Youtube channel. 
---
There were also two symposium held during the meeting:
Hudson River and Marine Symposium
This symposium highlighted research and management of fishes and blue crabs of the Hudson River and near shore ocean.
Shad(s) Symposium
The anadromous alosine herrings (shads) once dominated East Coast rivers and estuaries, but are now in decline.  In particular, the American shad has become much less abundant, despite efforts at reducing fishing pressure and restoring nursery habitats.  This symposium invited oral and poster presentations on the science and management of the East Coast shads, including American shad, hickory shad, and river herring.
---
Missed Past Meetings? No Problem, check below