Welcome to The NY Chapter of AFS!
The mission of the New York Chapter of the American Fisheries Society is to improve the conservation and sustainability of fishery resources and aquatic ecosystems by advancing fisheries and aquatic science and by promoting the development of fisheries professionals. 
[metaslider id=129]
———————————————————————————————
From Our President:
As we get started into a new AFS year I have quite a few things to report.
First off, I would like to commend Mike Clancy and everyone on EXCOM for making the Lake Placid Meeting a grand success. We had a record setting 187 registrants and were able to net $5000 for the Chapter's general fund and $2000 for student subsidies. Both genetics workshops were well attended and well received.
We are in negotiations with the Otesaga Resort Hotel in Cooperstown. Tentatively the next Chapter meeting will be held there February 10-12, 2016. This year's Local Arrangements Chair is Tim Pokorny, a Cooperstown native and Otsego Lake fishing guru. FYI, the ice fishing right in front of the Otesaga is decent. This year's Program Chair is Dan Josephson. We are working together to build a plenary around the theme of Managing for Resilience.
Scott George has taken over as the Newsletter Chair. Scott, Erik Latremore and Geoff Eckerlin have been working together to redesign our website using Word Press hosted on the AFS Headquarter's server. The newsletter will be incorporated into the website, with news coming in on a regular basis, giving everyone a reason to check the website more often.
Dimitry Gorsky is our new President-Elect and as such, in charge of the raffle for the 2016 meeting. If you have any ideas for raffle prize donations, please pass them on to Dimitry. As was the case for this year's raffle, it is only through the help of Chapter members that we can build up an impressive set of prizes. On that note, I'd like to give a special note of appreciation to Erik Latremore for donating his home built wooden kayak. I'm hoping to get pictures of the lucky winner, Mike Soukup, enjoying his new boat this year.
At the NEAFWA meeting in Rhode Island, both the NED of AFS and of TWS met with the Directors to discuss ways to make the NEAFWA meeting more amenable to our needs. For years, there have been concerns along the lines of lack of NED involvement with programming and meeting costs. Attached you'll find Divisional President Cooper's summary of where negotiations have led and the approach that was used. The next NEAFWA conference will be held outside of NED boundaries and as such the NED business meeting is looking for an alternative venue. The NY Chapter has offered to be a host as needed.
Please spread the word about our logo redesign contest to everyone you know with any artistic leanings. Hopefully we'll get a few entries to be voted on at the next Chapter meeting. See details of contest on this site's home page.
Time to get out and sample some fish. Enjoy!
Chris VanMaaren
———————————————————————————————-
Missed the Meeting?
2015 Annual Meeting Videos are available click here!
2015 Annual Meeting Program is available 2015 ANNUAL MEETING Program draft! 
2015 Annual Meeting Abstracts are available click here!
———————————————————————————————
The Official New York Fishing, Hunting & Wildlife Guide App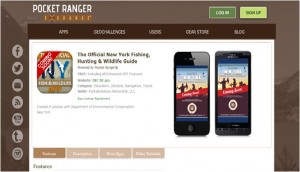 Pocket Ranger® provides plenty of other standard features and advanced GPS technology to maximize any backcountry excursion.
 With essential fishing, hunting and wildlife viewing information at your fingertips, prepare to experience New York's great outdoors like never before.
Download it for your phone here…
———————————————————————————————
NYS FISH ATLAS click here
Fish Atlas Maps of New York
Introduction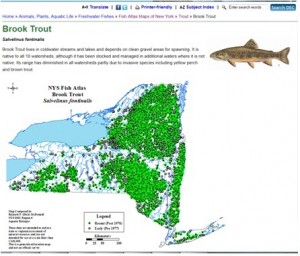 Fish distribution maps are a valuable and necessary part of conservation and management work. However, the only maps for New York's inland fishes, from 1985, are becoming outdated. Up-to-date maps allow workers to better complete field assessments and to identify range extensions and species extirpations. They are also useful to anglers, naturalists and others interested in our water resources. We have developed updated maps for this purpose, and they accompany the other most recent watershed inventories with species lists, published in 2004.
——————————————————————————————–
Jonathan Bird's Blue World: Saving the Sturgeon