Welcome to The NY Chapter of AFS!
The mission of the New York Chapter of the American Fisheries Society is to improve the conservation and sustainability of fishery resources and aquatic ecosystems by advancing fisheries and aquatic science and by promoting the development of fisheries professionals. 
[metaslider id=129]
———————————————————————————————
---
From Our President:
I'm writing this before PDSD (post deer season depression) sets in. To get through the coming short days and spotty ice fishing availability, I like to day dream about how much fun the Chapter's annual meeting has been and will be again this year (any offers of ham with that cheese?). Anyway, here is my sales pitch for this year's meeting:
The meeting will be held Feb 10-12 at the Otesaga Resort Hotel on the shore of Otsego Lake in Cooperstown. We will have the run of this very fancy historic resort. We were able to negotiate a deal to get the state rate of $83/night at the main building and the neighboring Cooper Inn. I suspect attendance will be high to this centralized location and I suggest that everyone register as soon as possible. The Governor even made a special accommodation for those wanting to stay the weekend to ice fish. He has designed February 13-14 as a free fishing weekend.
For our pre-meeting workshop (Weds Feb 10) we will have Marc Nelitz and Brendan Connors from British Columbia come out to discuss how Adaptive Management can be used to create fisheries that are resilient to the more severe disturbance regimes common in today's fisheries. They come to us from a group called ESSA, a consulting company specializing in environmental and social sciences and decision support. ESSA has developed and implemented Adaptive Management strategies for a wide range of clients including the USF&W Service, Army Corp of Engineers, US Bureau of Reclamation and the Nature Conservancy. They have applied their plans in environments from the East to West Coast, from the Everglades to Pugent Sound. I'm very excited that they are willing to make the long flight out to Upstate NY in February and hope everyone will take advantage of this unique opportunity. Here is a link to their Adaptive Management page: http://essa.com/services/adaptive-management/
Following the workshop will be our welcome social with horderves and beer. Thursday the 11th includes the plenary session, the business meeting and the banquet/raffle. The theme of the meeting is "Building Resiliency into Fish Management Plans – Sustaining Fisheries in a Changing World". Dan Josephson and Brian Weidel have done an amazing job of lining up the following seven plenary presentations:
Dr. Olaf Jensen                    Rutgers University                       Resiliency (conceptual; stock assessments)
Dr. Brian Weidel                  US Geological Survey                 Resiliency (conceptual; food webs & invasives)
Dr. Matt Hare                       Cornell University                        Resiliency (conceptual; brook trout genetics)
Dr. Russell Brown                Woods Hole                                   Sea scallops, Haddock (North Atlantic Ocean)
Mr. Don Einhouse               NYS DEC                                           Yellow Perch (Lake Erie)
Mr. Nathaniel Gillespie     US Forest Service                         Brook Trout (Eastern USA)
Dr. Charles Krueger            Michigan State                              Lake Trout (North America)
Following the plenary session will be the business meeting, poster social and the banquet/raffle.   Be sure to save your pennies for raffle tickets as this function helps to fund our student travel awards and tends to get exciting with numerous beer filled individuals getting lively. Friday will include split sessions of contributed papers and will run to early afternoon. For those that want to stick around, an ice fishing party will head out onto Otsego Lake that afternoon.
We plan on making a special effort to invite Fisheries professionals from within the Northeast Division to make this a great venue for networking and catching up with old friends. Please join us this February in Cooperstown, the meeting is bound to be a home run (sorry, had to through in a baseball pun).
Chris VanMaaren
———————————————————————————————-
Missed the Meeting?
2015 Annual Meeting Videos are available click here!
2015 Annual Meeting Program is available 2015 ANNUAL MEETING Program draft! 
2015 Annual Meeting Abstracts are available click here!
———————————————————————————————
The Official New York Fishing, Hunting & Wildlife Guide App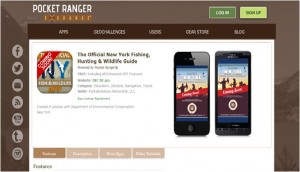 Pocket Ranger® provides plenty of other standard features and advanced GPS technology to maximize any backcountry excursion.
 With essential fishing, hunting and wildlife viewing information at your fingertips, prepare to experience New York's great outdoors like never before.
Download it for your phone here…
———————————————————————————————
NYS FISH ATLAS click here
Fish Atlas Maps of New York
Introduction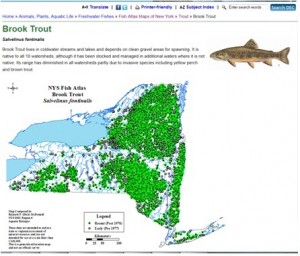 Fish distribution maps are a valuable and necessary part of conservation and management work. However, the only maps for New York's inland fishes, from 1985, are becoming outdated. Up-to-date maps allow workers to better complete field assessments and to identify range extensions and species extirpations. They are also useful to anglers, naturalists and others interested in our water resources. We have developed updated maps for this purpose, and they accompany the other most recent watershed inventories with species lists, published in 2004.
——————————————————————————————–
Jonathan Bird's Blue World: Saving the Sturgeon