Welcome to The NY Chapter of AFS!
The mission of the New York Chapter of the American Fisheries Society is to improve the conservation and sustainability of fishery resources and aquatic ecosystems by advancing fisheries and aquatic science and by promoting the development of fisheries professionals. 
---
From Our President:
Coming soon…
---
Retired NYSDEC biologist Walt Keller receives Conservationist of the Year award at 2016 NYCAFS meeting
Dear NYS AFS Members:
I am writing to thank you again for honoring me with at the annual banquet with the Conservationist of the Year Award which means so much to me. And again, I am humbled by your recognition.
My absence from the last day of the Chapter meeting was not intended. On that Friday morning drive from Stamford to the Otesaga I had some discomfort and started to berate myself for not having my nitro aboard. When I got to Cooperstown I had to decide whether to turn right at Price Chopper for the hospital or continue on to the Otesaga. An act of self-conservation, I turned right. Clue to all for fast admittance to and immediate undivided Emergency Room attention, the two magic words, "chest pain". Fortunately for me a false alarm and they sent me home, absent any pain but still clueless, the next afternoon.
But detour aside and again, thank you so much for even considering to award me for something that I was not even aware might be obvious, my baby steps for conservation.
Humbly,
Walt Keller
---
Missed the Meeting?
2016 Annual Meeting Videos are available click here!
---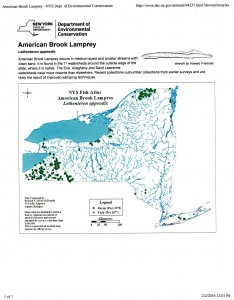 Reference as:  Carlson, D. and R. Daniels. 2013. Fish Atlas maps of New York, webpage. 184 pp http://www.dec.ny.gov/animals/84622.html
---
The Official New York Fishing, Hunting & Wildlife Guide App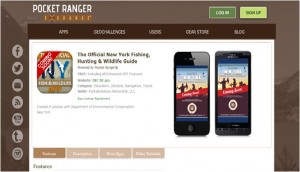 Pocket Ranger® provides plenty of other standard features and advanced GPS technology to maximize any backcountry excursion.
 With essential fishing, hunting and wildlife viewing information at your fingertips, prepare to experience New York's great outdoors like never before.
---
Jonathan Bird's Blue World: Saving the Sturgeon