Contributed by Scott Wells, Posted 8/9/22: Staff from OPRHP's Gilbert Lake State Park and DEC's Region 4 Fisheries office in Stamford teamed up again during NY's annual free fishing weekend (last full weekend in June). Our main goal was to provide a free fishing event for the public complete with gear, bait, with staff on hand to assist, guide, educate, and engage mostly new/youth anglers.
Eager young anglers arrived right at 9am on what turned about to be a beautiful bright bluebird Saturday. Some early catches included a mixed year-class of pumpkinseed and immature largemouth bass. Thereafter, a fairly steady stream of anglers arrived as shoreline space filled up fast. Random catches of bass and sunnies using mostly red worms and floats slowed down late morning until a 'lunch bit' ensued. One older angler donated a large 'display' bass caught on a small jig/twister for kiddos to enjoy. Several youth caught multiple fish, with at least one saying that this was his first fish ever (nice)! A few families came with 3-4 kids and stayed for several hours, allowing one young lady to amass no less than six fish before her family left. Most of the fish captured were put on live display (tubs, bubblers) for all to see and some to play with, then released by attendees.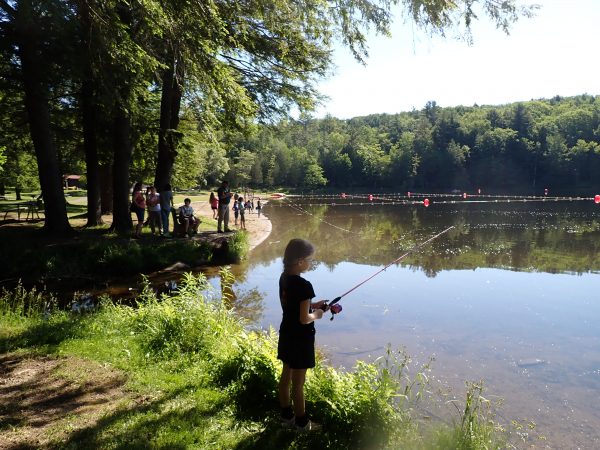 We counted about 35 youth in attendance, plus another ~10 adults that ended up fishing alongside their comrades. Staff kept plenty busy rebaiting hooks and swapping out tangled fishing rods. Over two dozen fish were caught, about twice as many as in 2021, with many happy-faced images taken by parents of proud kids and their catches. Special thanks to all event staff for spending your Saturday to combat a growing nature deficit among youth. Kudos all, let's do it again next year!