Spotlight on Women in Fisheries (WiF):
A new series of posts featuring New York Chapter AFS Women in Fisheries, highlighting their accomplishments and contributions to fisheries in NY and beyond.
As our inaugural post, we'd like to introduce you to our chapter president, Heidi O' Riordan.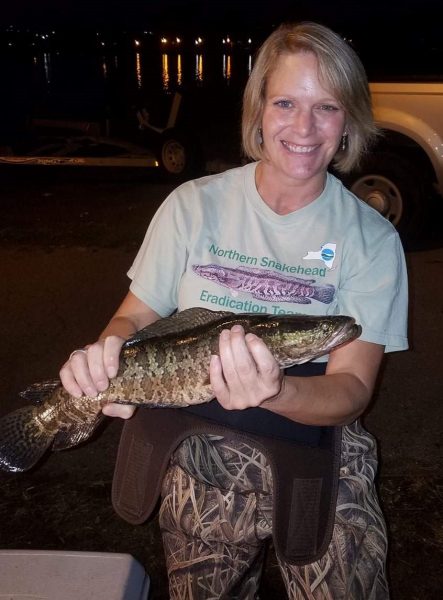 Hello New York Chapter American Fisheries Society (NYC AFS) members! As the elected president of the Chapter for 2021 I would like to tell you a little about myself and my experience.
I was born and raised on Long Island and currently live in Nassau County in a full house with my 16 year-old twins, my fiancé, his son, and our two dogs. I studied my undergraduate at Stony Brook University and then in 2015 earned a master's degree in Marine Conservation and Policy at Stony Brook's School of Marine and Atmospheric Sciences while working as a biologist for NYS Department of Environmental Conservation (DEC). My professional career at DEC began twenty-four years ago in the Anadromous Fish Unit in Marine Resources tagging striped bass on eastern Long Island and monitoring glass eels in the Carmans River. I then moved around the department quite a bit and eventually landed in freshwater fisheries in 2005. The past fifteen years working in freshwater fisheries has given me a tremendous sense of pride and gratification. I am currently the manager of the DEC Region 1 Fisheries Unit and am charged with all things freshwater in Nassau and Suffolk County on Long Island. I love the field work and have a great unit to work alongside me, whose dedication and willingness to overcome any challenge keeps me on target, even if it's a day spent hand pulling invasive aquatic vegetation.
DEC Region 1 has always been faced with many obstacles. The fact that we live on such a fast paced, highly populated, often politically driven island, we must work harder to protect our natural resources, balancing the needs and wants of our constituents with best management practices. I believe staying connected with anglers and other users of our resources, together with sound science is essential to managing Long Island's fragile freshwater resources. Working with diadromous species enables me to have the best of both marine and freshwater worlds and I and strive to work with local agencies and environmental groups to make restoration and stream re-connectivity projects happen.
The I FISH NY Program portion of my job is very also gratifying, from watching the excitement in a child's eyes when they catch their very first fish, to facilitating one-on-one flyfishing instruction for the increasing number of women who seek to join the tranquility of the sport. I am still surprised by the number of residents who are unaware of the freshwater and marine fishing opportunities right in our backyard and find great pleasure in sharing my knowledge to anyone looking to explore what NY has to offer.
This will be my sixteenth year as a NYC AFS member and have yet to miss the annual meeting. As the current chapter president, I hope to see you all in person in 2022 and look forward to sharing our beautiful island with you!
Heidi Neglia O'Riordan
*Keep an eye on your inbox for more WiF posts and events.
Tagged Under: WiF